In their first international match of the year, Team SoloMid proved the strength of North American League of Legends with a win over their opponents, GIGABYTE Marines. But the GPL team showed that they can stand toe to toe with the LCS Spring Split champions, taking the series as far as it could possibly go.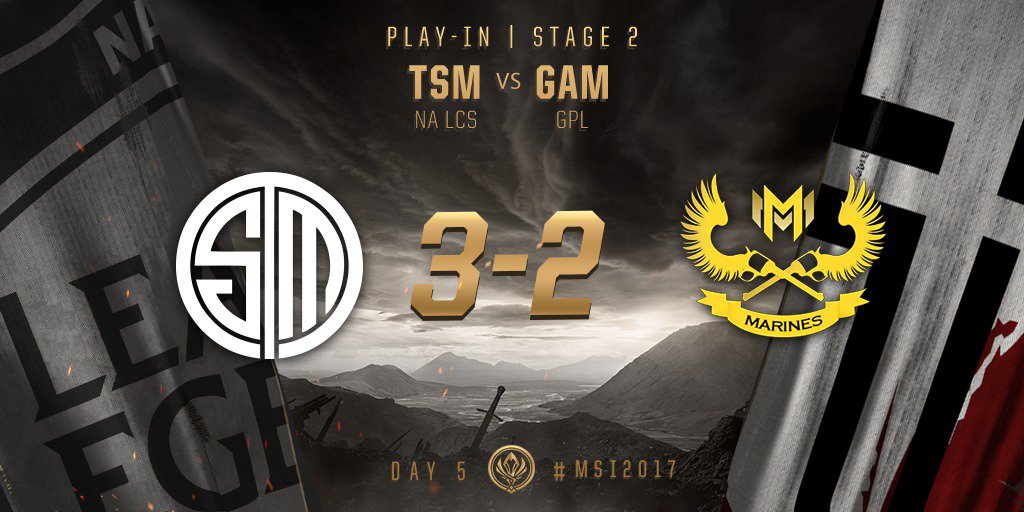 League of Legends MSI Play-In Round 2
Things were looking dangerous for TSM, who were favored to defeat whichever team emerged from Round 1 of the Play-In at the Mid-Season Invitational 2017. GIGABYTE Marines took them down decisively in game one, not giving them any opportunities and catching them completely by surprise. Game 2 was a bit different, with TSM getting off to an early gold lead. But that was still blown out of the water by the Marines, led by the prowess of their jungler Levi and midlaner Optimus.
When it came down to it, TSM was able to win back the momentum for game 3, rushing from their Nexus and looking like a completely different team. After Hauntzer earned his third solo kill in the top lane against Stark, everyone watching suddenly saw the team they recognized from the NA LCS Spring Split. Their win in game 3 saved the series, and left the Marines reeling on their back feet.
*Exhales*#MSI2017

— Josh Leesman (@RiotJatt) May 3, 2017

In the end, it may have come down to drafting. Game 5 was an incredibly close game the entire way, with the two teams even coming within about 100 gold of each other after 20 minutes. TSM was able to utilize map pressure despite losing a few trades in team fights and pushed the game upwards of 40 minutes. With players locking in full item builds, it became clear that TSM's coach Parth had managed to draft the superior composition. The Marines were unable to initiate on the North American representatives, and eventually succumbed to the constant lane pressure.
Sorry for the messy games but we qualified for groups! Going to take the next week to improve as much as we can before Rio! #MSI2017 pic.twitter.com/arNuztqbaf

— Team SoloMid (@TeamSoloMid) May 4, 2017

Tomorrow will see the winner of Group A, Turkey's SuperMassive, square off against IEM Katowice champions Flash Wolves. The Flash Wolves had an impressive showing at IEM, beating some of the top European teams, as well as some of the bottom teams from the LCK. But SuperMassive had a dominant Round 1 at MSI, and seem to be out for blood. Catch the League of Legends action tomorrow via Twitch at 11am Pacific Time.