Taiwan's Flash Wolves had their claws out in their first match going into the League of Legends Mid-Season Invitational 2017, defeating SuperMassive in a dominant 3-0 series. The win leaves only one place left in the lineup for MSI's Group Stage, which will feature EU LCS's G2 Esports, LCK's SK Telecom T1, LPL's Team WE, NA LCS's Team SoloMid, and now Flash Wolves from the LMS.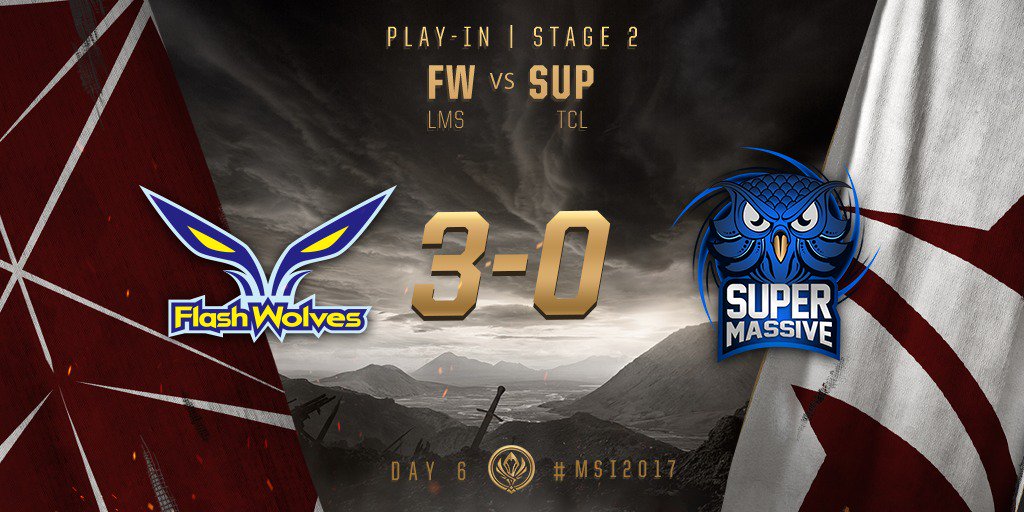 Flash Wolves at MSI 2017
It was a very different series than yesterday, as Flash Wolves absolutely dismantled SuperMassive in 3 games that failed to exceed 30 minutes. Their drafts were strong, their play was clean, and their team fighting prowess was impossible to deal with. SuperMassive had made quick work of most of the teams they faced in Round 1, giving up only one game against Red Canids. But they proved to be no match for the Flash Wolves. They will now have one more chance to make it to the Group Stage, squaring off against GIGABYTE Marines.
#MSI2017 draw results:

➡️ @supmass vs. @flashwolves2013

➡️ Gigabyte Marines vs. @TeamSoloMid pic.twitter.com/wQBlgnetCN

— lolesports (@lolesports) May 2, 2017

At the time of the draw, it was definitely SuperMassive that looked happier about their future opponents. But the next match, SuperMassive against GIGABYTE Marines, will be the first hint of an implication at the level of play exhibited by Flash Wolves and Team SoloMid. TSM's series against GIGABYTE Marines was a hard fought 5 game series. TSM even lost the first two games, necessitating the fabled reverse sweep. They achieved it, but the feeling in the room was that both teams were worthy competition for the international tournament.
Contrasted with today's absolute thrashing of SuperMassive at the hands of Flash Wolves, after the Turkish team had exerted quite a bit of dominance in Round 1, and maybe the NA LCS team has more to worry about than they think. The final match of the League of Legends Play-In stage of MSI 2017 will take place this Saturday.